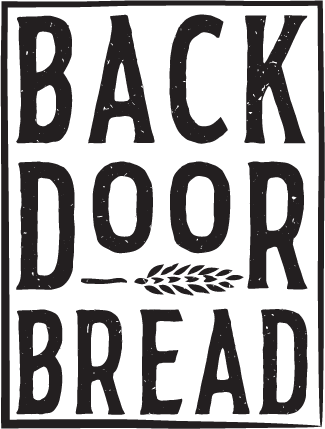 welcome to backdoor bread
Our naturally leavened bread is produced with grain milled onsite just before mixing, carefully chosen by us from small, organic farms throughout the northeast and beyond. Our breads highlight single varieties of wheats, showcasing the differences.
PRE-ORDER BREAD
Ensure you receive the bread of your choice! Pre-ordering is not required, we always bake extra bread. We never know when we will sell out, however—sometimes early, sometimes late. Ordering will ensure you don't miss out.
ORDER NOW
NEVER MISS A BAKE!
HOW TO PAY AT THE STORE
Payment required at time of order. For walk-in sales, we accept cash, local checks and credit card.

---
Current Breads
All grains are 100% organic, sourced from small farms throughout the Northeast. All breads are naturally leavened. Flour is whole grain and milled in house, we don't sift anything out! See the order form for this weeks menu offerings.
Breads We Make
Organic Aurora 1109
Organic Aurora 1109 wheat grown in Shelburne by Nitty Gritty Grain, water, salt
Read about this exciting wheat project on our blog.
Organic Spelt
Organic Spelt grown in Penn Yan, NY, water, salt, baked in a pan loaf.
Raisin Sesame
Organic Redeemer wheat grown in Charlotte by Nitty Gritty Grain, mixed with golden and black raisins, water, and salt, rolled in unhulled sesame seeds
Organic Baguette
Organic Redeemer wheat grown in Charlotte by Nitty Gritty Grain, water, salt
Organic Khorasan
Organic Khorasan wheat (some know it as Kamut) grown in Saskatchewan, Canada, water, salt
Brioche
Organic Whole Redeemer Wheat, Milk, Eggs, Butter, Sugar, Salt, Yeast
Organic Einkorn
Organic Einkorn wheat, grown in Penn Yan, NY at Lakeview Organic Grain, water, salt
Organic Rye
100% Rye from Thornhill farm, Greensboro, Vt. water, salt
Walnut Raisin
Organic Redeemer Wheat, Toasted Walnuts, Raisins, Water, Salt
Bagged Granola
Organic rolled oats, almonds, sesame seeds, salt, cinnamon, cardamon, coconut oil, Patalin's maple syrup, vanilla extract, black raisins, golden raisins