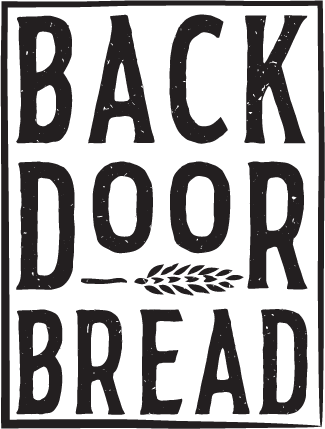 ---
LET'S STAY IN TOUCH!
WHERE TO FIND US
Bread pick up is at our bakery: 710 Hinesburg Rd Charlotte VT
Starting September 15, we will be on our Fall/Winter schedule! Open Tuesday and Friday from 10-7 pm for pre-orders, 10-2pm for drop-in sales.

Delivery to Wake Robin is available at no charge on Fridays. Choose "Deliver to Wake Robin" when ordering.
We do not ship bread at this time.
Ordering Information
Order deadline:
Sunday at 8:00pm for Tuesday bake and  Wednesday at 8pm for Friday bake.
We are sorry that we can not accept any requests or orders after the deadline.
To ensure you receive the bread of your choice, please place an order here;
However, pre-order is not required at this time, we will be baking extra bread.
PAYMENT INFO
Payment required at time of order. For walk-in sales, we accept cash, local checks, Venmo (username @backdoorbread)and credit card. Please send your venmo payment before leaving our property.
If you have any questions, please email us.
Thank you for your support, and please support other producers in our area.

---
Current Breads
All grains are 100% organic, sourced from small farms throughout the Northeast. All breads are naturally leavened. Flour is whole grain and milled in house, we don't sift anything out!
Available Every Tuesday
Oberkulmer Spelt $8
Organic Oberkulmer Spelt grown in Maine, Water, Salt
Redeemer $7
Organic Redeemer wheat grown in Charlotte by Nitty Gritty Grain, water, salt
Raisin $8
Organic Redeemer wheat grown in Charlotte by Nitty Gritty Grain, mixed with golden and black raisins, water, and salt, rolled in unhulled sesame seeds
Baguettes  $5
Organic Redeemer wheat grown in Charlotte by Nitty Gritty Grain, water, salt
Khorasan  $8
Organic Khorasan wheat (some know it as Kamut) grown in Alberta, Canada, water, salt
Miche  $12
Large, round, French style country bread. Great for families or parties. Organic Redeemer wheat from Nitty Gritty Grain, Organic Rye from Thornhill Farm, water, salt
Bagged Granola  $9
Organic rolled oats, almonds, sesame seeds, salt, cinnamon, cardamon, coconut oil, Patalin's maple syrup, vanilla extract, black raisins, golden raisins
Available Every FRIDAY
Redeemer $7
Organic Redeemer wheat grown in Charlotte by Nitty Gritty Grain, water, salt
Raisin $8
Organic Redeemer wheat grown in Charlotte by Nitty Gritty Grain, mixed with golden and black raisins, water, and salt, rolled in unhulled sesame seeds
Baguettes  $5
Organic Redeemer wheat grown in Charlotte by Nitty Gritty Grain, water, salt
Khorasan  $8
Organic Khorasan wheat (some know it as Kamut) grown in Alberta, Canada, water, salt
Miche  $12
Large, round, French style country bread. Great for families or parties. Organic Redeemer wheat from Nitty Gritty Grain, Organic Rye from Thornhill Farm, water, salt
Emmer  $10
Organic Emmer wheat, grown in Penn Yan, NY at Lakeview Organic Grain, water, salt
Rye  $9
100% Rye from Thornhill farm, Greensboro, Vt. water, salt
Cheddar Cheese Fougasse $8
Organic Redeemer wheat grown in Charlotte, Shelburne Farms cheddar cheese, water, salt
Bagged Granola  $9
Organic rolled oats, almonds, sesame seeds, salt, cinnamon, cardamon, coconut oil, Patalin's maple syrup, vanilla extract, black raisins, golden raisins