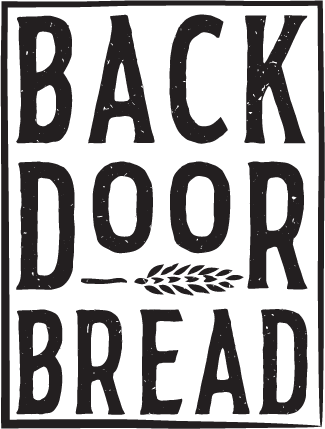 WHERE TO FIND US
---
Click HERE to order bread! Bread pick up is at our bakery: 710 Hinesburg Rd, Charlotte, VT
Tuesdays & Fridays 10-2pm or til sold out Coronavirus Update
To maintain the safety of the bread we bake, our community's health and our own health, we have made some changes.  If you are not able to come and would like a home delivery in Charlotte, feel free to contact us at backdoorbread@gmail.com to make arrangements.
Changes you'll see during this time:
• shop hours shorted to 10-2pm so we can help customers directly
• only one customer in the shop at a time, please
• no sampling for the time being
• we will bag and hand each loaf to you, no self service
• we'll leave door open if weather permits
• we are accepting Venmo, checks and PayPal (using the Pay Now button below)
• we are offering bread at no charge or a reduced rate if you are experiencing hardship
Online Ordering Procedure
Click HERE to order bread!
Order deadlines are Sunday at 8pm for Tuesday pickups and Wednesday at 8pm for Friday pick ups. We can not accept any requests or orders after the deadline.
Pre-order is not required at this time, we will be baking extra bread.
Payment Info
Payment is not required: In this time of crisis, we want everyone to have access to healthy food, regardless of the ability to pay. We will not be tracking payments, if you are experiencing hardship, please do not pay.  If you would like to pay a reduced amount, that is fine too.
Payment will be accepted by Venmo (username @backdoorbread), via the Pay Now button below or by check.  No in store payment other than checks.
Please enter the amount to pay:

If you have any questions, please email us at backdoorbread@gmail.com. Thank you for your support, and please support other producers in our area. 
---
Current Breads:
All grains are 100% organic, sourced from small farms throughout the Northeast. All breads are naturally leavened. Flour is whole grain and milled in house, we don't sift anything out!
AVAILABLE TUESDAYS AND FRIDAYS
Redeemer $7
100% organic Redeemer wheat grown in Charlotte by Nitty Gritty Grain, water and salt
Raisin $8
100% organic Redeemer wheat grown in Charlotte by Nitty Gritty Grain, mixed with golden and black raisins, water and salt, rolled in unhulled sesame seeds
Baguettes  $5
Organic Redeemer wheat grown in Charlotte by Nitty Gritty Grain, water and salt
Khorasan  $8
Organic Khorasan Wheat(some know it as Kamut) grown in Alberta, Canada, water, salt
Miche  $12
Large, round, French style country bread. Great for families or parties. Organic Redeemer wheat from Nitty Gritty Grain, Organic Rye from Thornhill Farm, water, salt
Bagged Granola  $9
Organic Rolled Oats, Almonds, Sesame Seeds, Salt, Cinnamon, Cardamon, Coconut Oil, Patalin's Maple Syrup, Vanilla Extract, Black Raisins, Golden Raisins
TUESDAY ONLY
Emmer-(TEMPORARILY UNAVAILABLE!) $10
Organic Emmer wheat, grown in Penn Yan, NY at Lakeview Organic Grain, water, salt
Renan  $7
100% Renan wheat grown in Penn Yan, NY at Lakeview Organic Grain, water, salt 
FRIDAY ONLY
Rye  $9
100% Rye from Thornhill farm, Greensboro, Vt. water and salt
Einkorn  $10
Organic Einkorn wheat grown in Penn Yan, NY at Lakeview Organic Grain, water and salt
ABOUT US
---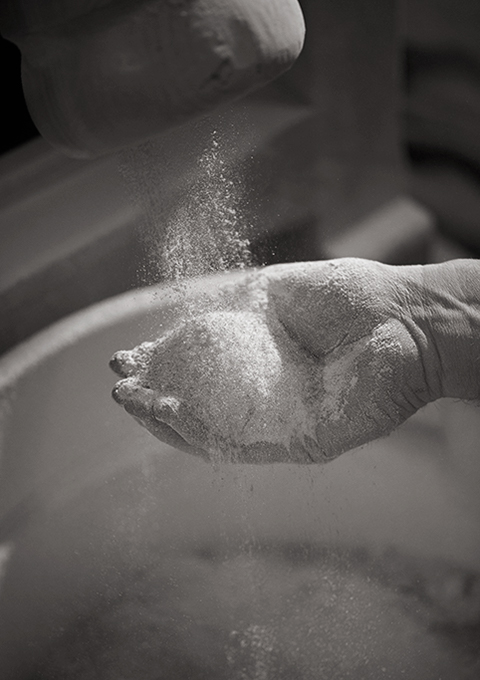 Backdoor Bread started as a side project in 2014 while we owned and operated Seven Stars Bakery in Providence, RI. Jim's interest in single variety wheats, regional sourcing and stone milling led to a side business, selling his 100% whole grain loaves at a few farmers markets around town. After 18 years in business and growing to four locations and 100+ employees, we decided to sell Seven Stars and go back to where we started: working with our hands, making products we love and being a part of a community that will appreciate our work. In the summer of 2019, our family of 4 moved to Charlotte, VT to continue the age old tradition of stone milling and whole grain baking.
Our naturally leavened bread is produced with grain milled onsite just before mixing, carefully chosen by us from small, organic farms throughout the northeast and beyond. Our breads highlight single varieties of wheats, showcasing the differences. We work with modern wheats bred for flavor, as well as heirloom, and "ancient" varieties like Khorasan (Kamut), Emmer, Spelt and Einkorn. Our customers rave about the difference in all these varieties, not unlike how different varieties of hops change the flavor of a beer, or varieties of grapes make the wine.
The experimental nature of Backdoor Bread has proven to be fulfilling as a baker, and exciting for our customers. Grains come and go through the year, and sometimes this year isn't as good as last. It reminds us that wheat is an agricultural product, subject to the vagaries of the seasons. Every year can't be the same. 
Jim & Lynn Williams
PRESS
---
Bread Baker's Guild of America – Fall/Winter 2019
Jim was interviewed by Bread Baker's Guild of America's for their "Bread Lines" newsletter.
Read article >
Shelburne News – October 2019
"Jim and Lynn Williams: Finding variety in wheat"
Read Article >
Seven Days – March 2019
"Rising in Vermont: Backdoor Bread Launches With a Pop-Up Sale"
Read Article >